Amazing holiday vibes and fantastic weather, that's what kitesurfing in summer is all about!
Summer brings a lot of sunshine with it, and if you are living in a big city, it can even heat up the asphalt on roads… As a result, it almost feels like the heat is burning you up from the ground. In situations like these, the only logical choice is to stay indoors (at home or in cars with air conditioning)! However, there's a better choice – You can book a kitesurfing vacation during summer and escape the heat!
As the summer season starts, a lot of kitesurfing spots open around the world with their exotic beaches, blue water, and cool winds! And I don't think that there's any better way to spend the summer vacation than to visit one of the kitesurfing spots! Since this sport requires wind and water, all the viable spots will have everything you would need to make your vacation a true getaway!
During the summer season, a lot of places offer good conditions for kitesurfing, such as Sri Lanka, the Caribbean, Brazil, Philippines, and so on. But what if you are not a kitesurfer? Basically, all the famous kitesurfing spots are also popular among tourists since there's a lot to explore in such places. And to top it all off, you can also easily learn kitesurfing during summer by joining a kitesurfing school! Basically, all the famous kitesurfing spots also feature a lot of kitesurfing schools nearby!
Why is summer a good time to kitesurf?
Is it a good idea to book a kitesurfing holiday in the summer season? Take a look at some of the reasons which make it such a good idea:
Warm Weather
If you come from a country which is known for harsh winters, then you be greeted with a pleasant surprise when you visit any of the kitesurfing spots. During the summer season, these places offer cool breezes and a lot of chances to soak in the sun at the beaches.
Normally, a lot of people book their summer holidays in a spot known for its warm weather just to get some sun exposure and to chill on the beaches. But you can take it a step further by going to a place where you can kitesurf as well! This will ensure that you can enjoy warm weather while also experiencing freedom as you kitesurf on the water.
Consistent Winds
Summer kitesurfing season consists of May, June, July, August, September, and October. In some spots, it even starts in April, but the last month of summer is October in pretty much everywhere. One of the best things about the summer season for kitesurfing is consistent winds every single day!
There's nothing worse than encountering no-wind days if you are specifically going to a spot for kitesurfing! So besides enjoying warm weather, you also get to experience consistent winds on a daily basis. During the summer season, the feeling of a cool breeze hitting your body feels so relaxing and liberating that it can't be described in words.
In short, you should go kitesurfing in the summer season if you want consistent winds on a daily basis!
Memorable Vacation
You can make your summer holidays a lot more fun by planning a kitesurfing vacation! A lot of people plan their summer vacations – Some go out to the countryside while others travel the popular destinations around the world. This summer, you can make your summer vacations a lot more memorable by going kitesurfing!
Kitesurfing can be an ideal sport if you are a true spirit who loves to travel around the world & get a thrill from extreme sports. However, one of the things that matter the most in kitesurfing is the location, and if you fail to choose a good one, your...
Best Kitesurfing Destinations for summer
Let's look at some of the best kitesurfing destinations you can visit during the summer season:
1. Kalpitiya (Sri Lanka)
The first spot is our all-time favourite 'Kalpitiya', located in the beautiful Asian country of Sri Lanka. The beauty of this specific spot in Sri Lanka is that it is perfect for both beginners and pro kitesurfers alike. With its shallow waters, wide water lagoons, and consistent winds, you can kitesurf throughout the day!
Due to the ideal conditions, you can also easily find a lot of kitesurfing schools in the Kalpitiya as well. So if you are planning to learn to kitesurf this summer season, then it can be a good idea to visit Kalpitiya in Sri Lanka. According to statistics, the best time to visit Kalpitiya during the summer season is from May to September.
Furthermore, this spot is only 3 hour drive from Bandaranaike Airport, which means that you can get there with relative ease.
On average, the wind speed during the summer season is between 20 to 30 knots which is ideal for pretty much every type of rider. Furthermore, there are a lot of other activities in Kalpitiya besides kitesurfing which makes it ideal for a summer family vacation as well.
2. Cabarete (Dominican Republic)
If you are looking for a kitesurfing destination that has all the amenities and the perfect conditions, then look no further than Cabarete. In general, one usually has to compromise on a lot of things such as accommodation, food, or other activities since the famous kitesurfing destinations are usually remote. But when it comes to this spot in the Dominican Republic, you get a taste of everything.
From kitesurfing to yoga to windsurfing or just surfing in general, you can enjoy a lot in Cabarete. And during the summer season, you can also meet a lot of other kitesurfers too, which is an additional benefit of this spot.
As for the conditions, all types of kitesurfers can visit the Cabarete during the summer season, from learners to those who are already experts at this sport!
You can easily find a lot of accommodations right next to the kitesurfing spot – This will save you time and money from travelling so that you can focus on having fun. Furthermore, there are also a lot of non-water activities in Cabarete, which adds to the appeal.
You can't´a buy happiness , but you can always buy a kite... For the majority of people, the New Year's resolution is pretty much the same such as getting healthier, travelling more, and so on. Basically, all the goals from New Year's resolution boil down to something...
 The best thing about a kitesurfing holiday is that you only have to worry about the wind! Thinking about a kitesurfing holiday but not sure where to go? Maybe you are new to kitesurfing and are not sure whether it is a good idea to try this sport or not... Whatever...
With the winter season in full swing, it is only natural to crave warm beaches and a lot of sunshine. And if one can manage to get some adrenaline action on top of all that, it becomes more amazing. So if you want a lot of sunshine, warm beaches, and also want to try...
A lot of people believe that they can only go kitesurfing during the winter and the summer season. In reality, you can also go kitesurfing during the spring season, which consists of the months of March, April, and May. After the long winter season, the month which...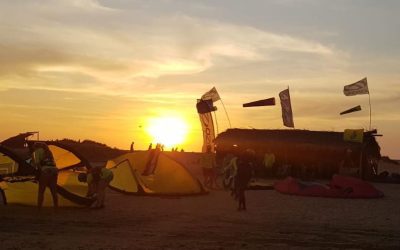 When it comes to traveling with your family, it is a lot more difficult than traveling solo. And when you add kids into the mix, the equation becomes a lot more complicated! However, that's not to say that you can't find good destinations for family trips - Over the...
Is your family looking for a new summer activity to try? Kitesurfing could be a perfect choice! This extreme sport is exhilarating and fun for people of all ages. Is your child itching to try kitesurfing? The good news is, that kitesurfing is a great activity for kids...
If you're looking to do something different this year, why not try kitesurfing? This exciting sport allows you to get up close and personal with the beautiful scenery. For solo travellers, this type of outdoor activity can be an ideal way to spend your vacation...
The best kitesurfing destinations for digital nomads Back in the day, a nomad was someone who didn't have a fixed residence and used to move from one place to another. The rise of technology has given birth to a new type of nomads known as 'digital...
3. La Ventana (Mexico)
The 3rd spot on our list is La Ventana from Mexico, which offers a blend of everything during the summer season… You get to enjoy the Mexican vibes, welcoming community, amazing food, quietness, and great conditions for kitesurfing. So if you are looking for a great overall package and a taste of a different culture, then you have got to try the La Ventana!
The beauty of La Ventana is that it has a lot to offer visitors – So when you are taking a break from kitesurfing, you can explore its desert landscapes, beautiful mountains, cactus forests, turquoise water, and so on. As for the wind situation in La Ventta, it is usually consistent and smooth, which makes it good for everyone.
4. Sicily (Italy)
If you are looking for a kitesurfing spot in Europe during the summer season, then you can also visit Sicily, located in Italy. In this spot, you get to experience a flat water lagoon and wind from two different systems – As a result, you will be able to get wind from one of the systems at the very least!
Due to good conditions, Siciliy now offers all the kitesurfing infrastructure you need for the perfect kite ride – From a big area for setting up the equipment to storage to showers and so on! The accommodation situation in Sicili is also really an exception as there are a lot of different hotels and resorts nearby.
5. Dakhla (Morocco)
The last spot on our list is Dakhla which remains open during the summer season and offers consistent winds during June, July, and other summer months. Another fact which makes Dakhla a great choice is that it is also beginners friendly – So if learning kitesurfing is on your wishlist, then you can visit Dakhla during this summer season.
In general, you can expect around 150 – 300 m wide area with shallow water for your kitesurfing. And to top it all off, there are no corals or rocks to disturb your kite rides which means a lot of uninterrupted fun!
Conclusion
Summer is the time when everyone wants to do something fun after the long winter months. However, this also means a lot of people at the popular kitesurfing spots. In fact, you will also encounter a lot of tourists too since these spots are located at exotic locations around the world.
So if you are planning to go kitesurfing during the summer months, the first thing to do is to make your preparations ahead of time. This includes picking the perfect spot which matches all of your requirements, accommodation, flights, and visa (if required).
And if you are planning a kitesurfing vacation with the whole family during summer, then you will need to pick a spot that is suitable for everyone. If kids or family members who are not interested in kitesurfing are going with you, then it would be wise to pick a spot which also offers something to them. But once again, you can easily find a suitable spot from our list mentioned above!
As for the best month during the summer season, all the months basically offer the same conditions… However, the flights and accommodations are usually a little expensive during June and July since it is the peak vacation period. So if you want to save some money on flights, you can go kitesurfing during August!
Als kitesurf instructeurs hebben we vaak de meest gehoorde woorden gehoord als het gaat om het leren kiten: "Ik zou willen leren, maar ik ben bang om weg te vliegen." Soms kan kitesurfen voor sommige mensen een gevaarlijke sport lijken, ofwel door onwetendheid of...
Discover the Excitement of Kitesurfing Camps for Beginners Welcome, aspiring kitesurfers, to the thrilling world of kitesurfing camps for beginners! If you've ever dreamt of harnessing the power of the wind, riding the waves, and experiencing the ultimate adrenaline...
Do you know that only 10% of the kitesurfers around the world are female? Recent statistics show that around 49.48% of the world population consists of women. So based on that, it seems that the number of women who kitesurf is very low! The reason for this low...
As the number of people participating in kitesurfing increased, the kitesurfing brands increased as well! That's why if you go to any popular kitesurfing spot, you will likely notice a lot of different kitesurfing brands. According to available information, the number...
What's the minimum wind speed needed for kitesurfing? That's one of the questions which is asked a lot by kitesurfers of all levels alike! And a simple answer to this question is that it depends on a lot of factors, such as wind speed, the weight of the kitesurfer,...
Kitesurf under 10 knots in some of the best kite foil spots in the world! Kitefoiling has gained mainstream attention quickly and has become a popular sport among water sports fans. You can think of kitefoiling as a subclass of kitesurfing because it shares a lot of...
Thinking of becoming a kitesurf instructor and wondering what your salary will be? Do you want to know how much kitesurf instructors earn? First of all, let us tell you that if you are looking to get rich, you better look elsewhere. If we consider the job of a...
Are you wondering about kitesurfing insurance? If you find yourself in a location with access to the ocean, don't pass up the opportunity to go kitesurfing. Kite surfing is a unique form of adventure since it incorporates elements from a variety of extreme...
Nowadays kitesurfing is considered an extreme sport and one of the most exciting activities that exist. Are you wondering if kitesurfing is also an appropriate sport to burn calories?  If you want to find out how many calories you can burn in kitesurfing, you are in...
Is kitesurfing dangerous? Kitesurfing has become one of our favourite extreme sports to enjoy on the beach in summer. As its practise has expanded considerably in recent years, the number of accidents has also increased. That is why we ask ourselves, is...
For many people who are new to kitesurfing and want to learn, a commonly asked question is how much kitesurfing gear costs. However, the answer to this question is not a straightforward one - The price of kitesurfing equipment varies between items and even between...
Maybe you've been kitesurfing for a while, and want to try exciting new waters? Holidays to famous kitesurfing destinations around the world is all part of the fun, with thousands of surfers travelling every year. So you've got the perfect kite, harness, and...
 A couple of weeks into your kitesurfing lessons, you feel confident. The adrenaline rush drives you to learn new tricks. The fancy unhooked tricks attract you, yet, is it advisable? A big 'No.' Don't worry; we got you covered. In this article, we guide you through 10...
Have you just started in the sport and still don't know very well how to keep your kitesurfing equipment in the best conditions? Your Kitesurfing equipment is very important, and if you love it and you want it to last for a long time, you must maintain it in the best...
Have you finished your kite course and you don't know which initiation board is the most suitable for beginners? In this post, we will help you to choose the best beginners kitesurfing boards and the ones which you can progress faster. There is always a hard time in...
The ultimate guide to Kitesurf for beginners Are you thinking of starting a new challenge in your life by learning to kitesurf? Here we leave you the perfect guide for beginners: from choosing the right teacher to buying the equipment. If you are just...
One of the best ways to enjoy the beach and its waves is by doing some water sport, such as kitesurfing or kiteboarding. To practice this exciting and fun sport, you will need to buy a kitesurf board and, of course, a kitesurf kite. If you have started looking for...
If there's one sport that can enthral your senses and make you feel more attached to the beautiful nature, it's kitesurfing. The kitesurfing community is moving towards a new goldmine for surfing. Asia, though underrated, is home to some of the best kitesurfing spots....
Best places in the world to kite in flat water Be it surfing over the clearest of waters or performing gravity-defying stunts near the dock, kitesurfing, and its adrenaline boost is unrivalled. A passionate alliance of wind and water, kitesurfing provides...
The most suitable kites for beginners to get started Kitesurfing for beginners can prove to be an intimidating experience. Kiteboarding is an exhilarating and dynamic sport that requires an endless amount of skills and tricks to learn which at times becomes...
WHERE DUOTONE KITES ARE MADE? Have you ever wondered where the kites you use are made? Or how a kite is made? In an attempt to answer these and other questions, our friends from Windsuf Spain decided to travel to the factory where Duotone kiteboarding sources...
Best Places to Learn to Kitesurf There are not many things in this world that can give the same adrenaline rush, as the exhilarating experience of kitesurfing. Harnessing the wind's power to glide across the water surface, and be lifted high into the sky, is...