Kitesurf under 10 knots in some of the best kite foil spots in the world!
Kitefoiling has gained mainstream attention quickly and has become a popular sport among water sports fans. You can think of kitefoiling as a subclass of kitesurfing because it shares a lot of similarities. But the thing which makes it truly unique is the speed – You can easily pick up good speed with kitefoiling even if the wind is not so strong.
During the kite foiling, the board doesn't make much contact with water which means that the ride will not be so bumpy as well. On top of that, you will also not have an impact or slow down with a little bit of a chip. All of this means that you can ride smoothly for a long period of time with less physical effort. Last but not least, turning is also easier in kitefoiling, which is another additional benefit.
So if you are intrigued by the benefits of kitefoiling and want to give it a shot, then you will need to find the best kitefoiling destinations first. So today, we will look at the best kite foiling destinations around the world so you can ride the waves with style!
Things to consider when choosing a kite foil destination
 Before mentioning which are the best kite foil spots in the world, let us give you some advice:
– Our first recommendation is that you choose a friendly spot in terms of wind conditions. The wind will undoubtedly be your best friend for your kite foil sessions. Therefore, light and soft winds kite foil destinations are the best and the most ideal for kite foiling. On the other hand, very gusty and strong winds destinations can be dangerous, especially if you are a beginner. Think that you no longer have a twin tip on your feet, so the most appropriate thing is to kite foil in light winds.
– Secondly, the depth of the water is essential when choosing a kitesurfing destination. It is essential to avoid very shallow water where your mast can get stuck. Depending on the kite foil spot, the tide can vary a lot, so we recommend you always ask about the depth of the spot before setting off with your foil.  
– We also recommend you avoid kite foil spots where there are many fishing nets. It's very easy to get your mast entangled in a goddamn fishermen's net, and believe us, you are not going to get rid easily!
– If waves are your thing, then avoid giant tubes or breaking swells, especially if you are just starting out in the world of kite foiling. We recommend you start kite foiling in a spot with smooth waves or choppy water, where falls cannot be dangerous.
– We are very lucky to have started kite foiling and we can go foiling with very little wind. But never forget that off-shore winds and strong currents will always remain a danger. This is very important to keep in mind when choosing your next kite foil destination.
Without further ado, let's dive into the best places to kite foil in the world!
The Ultimate Guide to the Best Kite Foiling Destinations
Are you ready for kite foiling? Then check out these amazing destinations that are perfect for this water sports:
1. Dream Spot (Sri Lanka)
How could it be otherwise, our home spot is number one on our list of the best kite foil spots in the world. The Dream Spot is an unspoiled beach with perfect conditions for kite foiling. With a side-shore all year round, this place is the best foiling spot in Sri Lanka, and possibly one of the best in the world. Why is that?
Well, the best thing about the Dream Spot is that you can choose between foiling in the sea, on one side of the beach, and foiling in deep-flat water on the other side of the beach. There is a strip of sand that separates both spots. So you can choose one or the other depending on your mood 🙂
In addition, you will find 8 to 18 knots in the winter season and 18 to 30 knots of constant wind in the summer season.
 >> Discover the best kitesurfing in Sri Lanka!
Maybe you've been kitesurfing for a while, and want to try exciting new waters? Holidays to famous kitesurfing destinations around the world is all part of the fun, with thousands of surfers travelling every year. So you've got the perfect kite, harness, and...
2. Dakhla (Morocco)
The second destination on our list is Dakhla which is a famous spot for kite foiling and other water sports. On average, you can get 70%-80% wind reliability throughout the year with a massive flat-water lagoon. Furthermore, you can catch around 4 wave spots on average every 30 minutes, which makes it a perfect fit for kitefoiling.
This place is located on the Atlantic coast and is only a 10km distance from the sea with a big, shallow, and flat lagoon – All of these things are perfect for foiling and what's even more amazing is that you can easily find accommodations right next to the launch spots.
Besides that, there are also quite a few kitefoiling schools that can help you learn this amazing sport in no time.
3. Pointe d'Esny (Mauritius)
Pointe d'Esny is an amazing beach located on Mauritius Island – In fact, this beach is one of the reasons why Mauritius has become so famous among tourists.
But our interest in the Pointe d'Esny beach is due to its perfect conditions for the kitefoiling. This spot offers a flat-water lagoon that is wide enough for a lot of people to easily foil without colliding. On top of that, this location is also away from the busy tourist areas, which means that the hazards will be few as well.
This beach is also very close to the beach, which means that you can get right into kitefoiling after landing at the airport. And if we look at the accommodation condition, there are many options, including the family-friendly resorts that make it a perfect fit for your next holiday.
4. Soma Bay (Egypt)
If you want to do kitefoiling in peace with less crowd, then Soma Bay is the best spot in Egypt. This spot is lined with sandy beaches and offers the best kiting conditions with a huge lagoon, reliable winds, and less crowd.
When compared with other locations, Soma Bay is still undiscovered and thus doesn't attract as many tourists as other places. For those who love kitefoiling, that's a blessing in disguise as you can enjoy this sport with no interruptions. And if you are new to kite foil, then the shallow waters and side-onshore winds make it really easy to learn the ins and outs of this sport!
5. Cabedelo Beach (Portugal)
In West Portugal, Cabedelo Beach is located in the Viana do Castelo and is right next to the Lima river mouth. But the best part about this spot is that it has a nearby port that offers protection & creates deep flat water.
If you know anything about foiling, you would know that this deep flat water makes it ideal for kitefoiling. On top of that, the wind condition also remains consistent in the west Portgulal since it is close to the Atlantic.
The best time to visit this spot is in May-September, and it offers warm temperature conditions. And for those who want to learn kitefoiling or other water sports, there are plenty of schools as well.
6. Cabarete (Dominican Republic)
The next spot is Cabarete in the Dominican Republic which offers the best combination of wave riding, flat water, and big downwinders. However, another great thing about this spot is that it has a Latin vibe going on, which makes it perfect for experiencing a different culture and different food.
The wave situation can change in the Cabarete, and it is common to see up to 4 meter big waves from time to time as well. So if you are a fan of surfing the waves on a foil, then you will also have plenty to do here.
Did I mention that this place is also full of natural beauty, which allows you to relax with the whole family as well? So If you want to experience kitefoiling and also have a great holiday, then you have got to try Cabarete.
Conclusion
It doesn't matter whether you are new to kitefoiling or an experienced player; you can't go wrong with the spots mentioned above. On top of that, you can easily find great accommodations, and there are numerous kite school options nearby as well.
To make a more informed decision, you should check out the prices of the accommodation, travel, and your time schedule. And if you are traveling with family, then you will also need to find a resort (hotel) that has accommodation for the whole family. Another thing to remember when looking for a family-friendly kitefoiling destination is the availability of different water and non-water activities that your kids can enjoy.
And if you want to explore some more locations besides those mentioned above, then make sure that they offer the following:
Good Winds
Consistent Waves
Flat water (for learning)
Good Accommodation
Close to Airport
You can't´a buy happiness , but you can always buy a kite... For the majority of people, the New Year's resolution is pretty much the same such as getting healthier, travelling more, and so on. Basically, all the goals from New Year's resolution boil down to something...
 The best thing about a kitesurfing holiday is that you only have to worry about the wind! Thinking about a kitesurfing holiday but not sure where to go? Maybe you are new to kitesurfing and are not sure whether it is a good idea to try this sport or not... Whatever...
With the winter season in full swing, it is only natural to crave warm beaches and a lot of sunshine. And if one can manage to get some adrenaline action on top of all that, it becomes more amazing. So if you want a lot of sunshine, warm beaches, and also want to try...
Amazing holiday vibes and fantastic weather, that's what kitesurfing in summer is all about! Summer brings a lot of sunshine with it, and if you are living in a big city, it can even heat up the asphalt on roads... As a result, it almost feels like the heat is burning...
A lot of people believe that they can only go kitesurfing during the winter and the summer season. In reality, you can also go kitesurfing during the spring season, which consists of the months of March, April, and May. After the long winter season, the month which...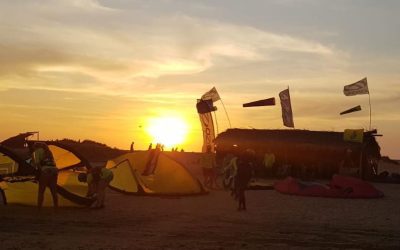 When it comes to traveling with your family, it is a lot more difficult than traveling solo. And when you add kids into the mix, the equation becomes a lot more complicated! However, that's not to say that you can't find good destinations for family trips - Over the...
Is your family looking for a new summer activity to try? Kitesurfing could be a perfect choice! This extreme sport is exhilarating and fun for people of all ages. Is your child itching to try kitesurfing? The good news is, that kitesurfing is a great activity for kids...
If you're looking to do something different this year, why not try kitesurfing? This exciting sport allows you to get up close and personal with the beautiful scenery. For solo travellers, this type of outdoor activity can be an ideal way to spend your vacation...
The best kitesurfing destinations for digital nomads Back in the day, a nomad was someone who didn't have a fixed residence and used to move from one place to another. The rise of technology has given birth to a new type of nomads known as 'digital...