Discover the Excitement of Kitesurfing Camps for Beginners
Welcome, aspiring kitesurfers, to the thrilling world of kitesurfing camps for beginners! If you've ever dreamt of harnessing the power of the wind, riding the waves, and experiencing the ultimate adrenaline rush, then you're in for a treat. Kitesurfing camps offer the perfect opportunity to immerse yourself in this exhilarating water sport while surrounded by like-minded individuals from around the globe. So, get ready to embark on an unforgettable journey as we explore the top kite camps for beginners, starting with our fantastic Margarita Kite Camp!
>> The best kitesurfing camps in the world
>> Kite schools 100 % authentic
Why Join a Kitesurfing Camp for beginners?
Embarking on a kitesurfing camp journey is not just about learning the sport; it's about embracing a whole new way of life. Here are some compelling reasons why signing up for a kite camp is an opportunity you don't want to miss:
1. Connect with Like-Minded Individuals: Kite camps bring together people from all walks of life who share a common passion for kitesurfing. You'll have the chance to connect with fellow beginners, exchange experiences, and forge lifelong friendships with people from around the world. There's something truly special about sharing the thrill of learning to kitesurf with others who are on a similar journey. The opportunity to swap stories, offer tips, and cheer each other on creates a supportive and fun community atmosphere.
2. Immerse Yourself in a Global Experience: Kite camps attract participants from various countries and cultures, creating a truly global experience. Not only will you learn the art of kitesurfing, but you'll also have the opportunity to immerse yourself in different languages, traditions, and perspectives. It's a chance to expand your horizons, broaden your cultural understanding, and create lasting memories with people who share your love for the sport. Exchanging kitesurfing experiences with others who are also learning adds an extra layer of excitement and camaraderie to the whole experience.
3.Embrace New Adventures: Kitesurfing camps often take place in breathtaking locations known for their pristine beaches, crystal-clear waters, and optimal wind conditions. Whether it's the tropical paradise of Brazil, the mesmerizing beauty of Egypt's Red Sea, or the hidden gems of Sri Lanka, each camp offers a unique backdrop for your kitesurfing adventure. From exploring local markets to indulging in delicious cuisine, there's no shortage of exciting experiences to complement your kitesurfing journey. And when you can share these adventures with fellow beginners, the joy and sense of adventure become even greater.
4. Achieve Fitness and Well-Being: Kitesurfing is not just a thrilling sport; it's also a fantastic way to stay fit and healthy. The combination of cardiovascular exercise, core strength development, and mental focus involved in kitesurfing provides a full-body workout like no other. By joining a kite camp, you'll receive expert guidance from certified instructors who will help you build your strength, improve your balance, and boost your overall well-being. Experiencing the physical and mental benefits of kitesurfing alongside others who are also at the beginner level creates a supportive and motivating environment.
5. Accelerate Your Learning Curve: Kitesurfing camps are designed specifically for beginners, providing a structured and supportive learning environment. With experienced instructors by your side, you'll receive personalized guidance, tips, and techniques to fast-track your progress. From mastering the basics of kite control to learning how to ride the waves, a kite camp will equip you with the skills and confidence you need to become a proficient kitesurfer. Being able to share your learning journey with others who are at a similar skill level adds an element of shared growth and encouragement.
Kitesurfing can be an ideal sport if you are a true spirit who loves to travel around the world & get a thrill from extreme sports. However, one of the things that matter the most in kitesurfing is the location, and if you fail to choose a good one, your...
5 Kitesurfing camps for beginners that you cannot miss!
Here some recommendations if you are looking for a WOW experience;
1. Margarita Kite camp – Our top kitesurfing camp, located in Kalpitiya, Sri Lanka, offers a fantastic learning experience for beginners. With its shallow and calm waters, it provides an ideal environment for practicing kiteboarding skills. Our school offers professional instructors, quality equipment, and personalized lessons to ensure a safe and enjoyable learning process.
2. Cabarete Kite Camp – Situated in the Dominican Republic, Cabarete is renowned for its excellent kitesurfing conditions. The Cabarete Kite Camp provides beginner-friendly lessons, experienced instructors, and a vibrant kitesurfing community. With consistent winds and beautiful beaches, Cabarete offers a great setting for beginners to learn and progress.
3. Tarifa Kite Camp – Located in Tarifa, Spain, this kite camp offers stunning views of the Mediterranean Sea and is one of Europe's top kitesurfing destinations. With its consistent winds, sandy beaches, and welcoming atmosphere, Tarifa provides an ideal learning environment for beginners looking to improve their skills.
4.Cumbuco Kite Camp – Situated in Cumbuco, Brazil, this kite camp offers a combination of consistent winds, warm weather, and breathtaking scenery. Cumbuco's shallow and flat-water lagoons provide a safe and forgiving learning environment for beginners. With professional instructors and a relaxed vibe, Cumbuco is a top choice for those starting their kitesurfing journey.
5. El Gouna Kite Camp – Located on the Red Sea coast of Egypt, El Gouna is a popular destination for kitesurfing enthusiasts of all levels. The kite camp in El Gouna offers beginner-friendly lessons, shallow and calm waters, and a range of accommodation options. With its year-round wind and beautiful sandy beaches, El Gouna provides an excellent learning environment for beginners.
Unleash Your Kitesurfing Adventure: Discover the Perfect Kite Camp for Beginners!
Now that you've learned about some incredible kite camps around the world, it's time to choose the one that will kickstart your kitesurfing journey. With picturesque locations, expert instructors, and ideal learning conditions, these kite camps offer an unforgettable experience for beginners. Whether you prefer the shallow waters of Margarita Kite School in Sri Lanka or the vibrant atmosphere of Cabarete Kite Camp in the Dominican Republic, there's a camp out there that's perfect for you.
Eine der entscheidenden Fragen für jemanden, der das Kitesurfen lernen möchte, lautet: Ist Kitesurfen leicht zu erlernen? Wie schwer ist es, Kitesurfen zu lernen? Kann man Kitesurfen alleine lernen? Nun, lassen Sie uns Ihnen sagen, dass Kitesurfen keine Sportart ist,...
You can't´a buy happiness , but you can always buy a kite... For the majority of people, the New Year's resolution is pretty much the same such as getting healthier, travelling more, and so on. Basically, all the goals from New Year's resolution boil down to something...
 The best thing about a kitesurfing holiday is that you only have to worry about the wind! Thinking about a kitesurfing holiday but not sure where to go? Maybe you are new to kitesurfing and are not sure whether it is a good idea to try this sport or not... Whatever...
With the winter season in full swing, it is only natural to crave warm beaches and a lot of sunshine. And if one can manage to get some adrenaline action on top of all that, it becomes more amazing. So if you want a lot of sunshine, warm beaches, and also want to try...
Amazing holiday vibes and fantastic weather, that's what kitesurfing in summer is all about! Summer brings a lot of sunshine with it, and if you are living in a big city, it can even heat up the asphalt on roads... As a result, it almost feels like the heat is burning...
A lot of people believe that they can only go kitesurfing during the winter and the summer season. In reality, you can also go kitesurfing during the spring season, which consists of the months of March, April, and May. After the long winter season, the month which...
5 Advanced Kitesurfing Tricks You Can Try Today! So you have mastered the basic and mid-level kitesurfing and now looking to step up your skills? The surprising thing about kitesurfing is that there is always something to learn, no matter how skilled you are!...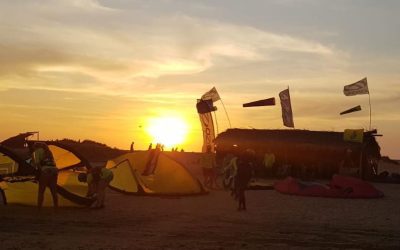 When it comes to traveling with your family, it is a lot more difficult than traveling solo. And when you add kids into the mix, the equation becomes a lot more complicated! However, that's not to say that you can't find good destinations for family trips - Over the...
Is your family looking for a new summer activity to try? Kitesurfing could be a perfect choice! This extreme sport is exhilarating and fun for people of all ages. Is your child itching to try kitesurfing? The good news is, that kitesurfing is a great activity for kids...
If you're looking to do something different this year, why not try kitesurfing? This exciting sport allows you to get up close and personal with the beautiful scenery. For solo travellers, this type of outdoor activity can be an ideal way to spend your vacation...
The best kitesurfing destinations for digital nomads Back in the day, a nomad was someone who didn't have a fixed residence and used to move from one place to another. The rise of technology has given birth to a new type of nomads known as 'digital...
One of the most crucial questions that somebody who is up to learn kitesurfing is; Is kitesurfing easy to learn? How hard is it to learn to kitesurf? Can you learn kitesurfing on your own? Well, let us tell you that kitesurfing is not a sport which is really hard to...
Are you wondering how much does it cost to start kitesurfing? In this article you will find out how much does it cost to start kitesurfing, own your own equipment and to continue practising on the kite beach without an instructor. When countless colorful kites fly...
 A couple of weeks into your kitesurfing lessons, you feel confident. The adrenaline rush drives you to learn new tricks. The fancy unhooked tricks attract you, yet, is it advisable? A big 'No.' Don't worry; we got you covered. In this article, we guide you through 10...
The ultimate guide to Kitesurf for beginners Are you thinking of starting a new challenge in your life by learning to kitesurf? Here we leave you the perfect guide for beginners: from choosing the right teacher to buying the equipment. If you are just...
Did you know that performing a kite jump is the best sensation that this sport can offer you? Jumping is probably the kite trick that offers the most feeling of freedom. For that reason, we have developed this guide on how to learn to jump in kitesurfing. Do you want...
How long does it take to learn to kitesurf? This is a question that many people ask themselves when learning to kitesurf. According to my experience as an iko instructor, one of many things I learned is that you should never assume how fast or slow a student can learn...
The most suitable kites for beginners to get started Kitesurfing for beginners can prove to be an intimidating experience. Kiteboarding is an exhilarating and dynamic sport that requires an endless amount of skills and tricks to learn which at times becomes...
HOW TO BODY DRAG KITESURFING The Body Drag is one of the essential techniques of kitesurf and it is not only important to know it and practice it in the beginning, this technique is also used for more advanced riders to try new tricks without taking many risks. For...