As the number of people participating in kitesurfing increased, the kitesurfing brands increased as well! That's why if you go to any popular kitesurfing spot, you will likely notice a lot of different kitesurfing brands. According to available information, the number of competing kitesurfing brands has already crossed the 100 mark.
With so many brands out there, it can get difficult for a new kitesurfer to choose one. In fact, it can get difficult for even an experienced kitesurfer since they can fall prey to paralysis analysis. Especially when we consider that the new brands usually keep their prices lower to grab the market share, the decision to choose a brand can get even more difficult.
But if you want to play safe and only buy the best kitesurfing gear, then the only sensible choice is to go with the best and trusted kitesurfing brands. Although the gear prices of these brands might be a little higher, you will not have to worry about the lack of safety features or worrying about the build quality.
Popular kitesurfing brands never compromise on safety and build quality since they have a reputation to uphold and thousands of customers to retain. So whether you are a new kitesurfer or an experienced one, you can always go with the best kitesurfing brands without a second thought!
>> Discover kitesurfing in Sri Lanka with Margarita´s team!
Top 10 Best Kitesurfing Brands
As the kitesurfing market grew and gained popularity, a lot of established sports brands started offering their kitesurfing ranges to the public. Back in the early days, no such brands existed, but that has long changed – These days, famous brands release their new kitesurfing product lines every single year!
So without wasting time, let's look at the best kitesurfing brands from where you can buy your kitesurfing gear (equipment) without worrying about safety, quality, or lack of features!
We have selected the top 10 kitesurfing brands based on their popularity:
Duotone Sports

Ozone Kites

F-One

Slingshot

Core Kiteboarding

Airush

North Kiteboarding

Eleveight Kites

Naish Kiteboarding

Cabrinha
 Let's look at each brand in more detail to see what makes them so popular among the kitesurfers:
 1. Duotone Sports – Probably the best kitesurfing brand in the world
If we talk about popular kitesurfing brands, then we can't even start the discussion without talking about Duotone, which sell gear for kitesurfing, windsurfing, and foil wing. From kites to boards, apparel, and all the other stuff, you can get it all from Duotone sports.
Due to their high-quality products, they are also the preferred choice by many professional kitesurfers. If you ask any kitesurfer with experience, they will recommend you Duotone Sports, which goes to show how popular it is among the masses. And unlike other brands, which focus solely on kites, Duotone is more about covering all the gear that's needed for kitesurfing.
Furthermore, you can also get detailed information about the different kitesurfing gear on their official site. When we look at the competition, only a select few are as dedicated as Duotone in providing information regarding their products.
So if you want to get the same gear as used by the professionals, then go for Duotone Sports and step up your game.
2. Ozone Kites – T

he fastest growing brand in the market
The next name on our list is Ozone which offers kites for a lot of different sports, such as kitesurfing, wingsurfing, snowkiting, and so on. Basically, you can get a kite for snow, land, and water on the Ozone, which makes it such a unique and comprehensive brand among others.
Furthermore, Ozone Kites also allows its customers to get custom kites that suit their specific needs. So if that's something which interests you, then that's also a valid reason to go for Ozone kites.
The best part about Ozone kites is their minimalism… Unlike other brands, the kits made by Ozone are made to do their basic function without any additional parts. That's why the kites made by Ozone are very easy to understand and perfect for beginners.
 In our kitesurf school in Sri Lanka we have been teaching many seasons with the Catalyst model and we are quite satisfied
3. F-One – One of the most popular brands in France
F-One has been around for a while and has even won an award for one of its kite models! Back in the day, F-One was solely focusing on only one type of kite model, but over the last couple of years, they have also started offering other products.
The most popular product of F-One is the Bandit (kite), which is ideal for all levels of riders (beginners and professionals) and delivers full control. Furthermore, this kite is also capable of delivering high power and an amazing hang time.
As mentioned earlier, F-One has extended its product line over the years and now also offers high-quality boards for kitesurfing. Although the products offered by F-One are considered premium (comes at a high cost), you can expect nothing short of extraordinary performance and amazing build quality.
4. Slingshot – another Top brand, specially in the USA
Another popular brand that has earned its reputation over the years is Slingshot which offers kites and all the other stuff that you need for kitesurfing.
Slingshot also offers specialized kites made for beginners through its B2 and B3 models – For those who are learning to kitesurf, there's no better kite model than the Slingshot B2 or B3. And the best part is that these kites are also very affordable ($130 – $250), which makes them great for beginner riders.
Besides offering kites, Slingshot also offers high-quality boards, which are known for their extra-long durability and can easily last for several years without wearing down. In fact, the boards offered by Slingshot offer a better rebound and pop as compared to boards from other boards.
5. Core Kiteboarding – When coming from Germany, it has to be good stuff
Core Kiteboarding is also a trusted name in kitesurfing, known for its high-performance kites, boards, and other relevant gear. In fact, you may have already seen a kite from Core Kiteboarding in action thanks to its iconic trademark with yellow, white, and black designs. These colours stand out from a distance, and you can easily tell that this kite is from Core Kiteboarding.
If we look at the early years of this brand, it becomes apparent that Core Kiteboarding has improved its products progressively.
6. Airush – The King of Watersports
The best part about Airush is it includes carbon offsetting in all of its kitesurfing equipment. Furthermore, this brand is also heavily invested in being an environmentally friendly company and has formed a partnership with a climate park.
For every board or kite sold by Airush, a mangrove tree is planted and nurtured. So if you care about our planet and want to make a difference, then that's another great reason to support Airush by opting for their kites and boards.
However, just because they are environmentally friendly doesn't mean that you have to compromise on quality. When it comes to quality and delivering performance, you will not be able to find any shortcomings in the Airush products.
7. North Kiteboarding – If you want a reliable kite, look for the N
The folks at North Kiteboarding are riders themselves which means that they actually know what it takes to make a great product. Furthermore, they have been around in this industry since 1957, making them one of the oldest brands!
From kites to all the accessories needed for kitesurfing, you can find it on their official webpage. The thing that I like the best about North Kiteboarding is that all of its products are made with precision and performance in mind.
The cheapest kite on the North Kiteboarding is priced at $800 (approximately), which is very competitive when we look at other famous brands.
8. Eleveight Kites
Just because Eleveight Kites was at the #9 spot in our list doesn't mean that their products are any lesser! All of their products, including kites, are known for their extra durability. And besides durability, you can also expect agility and lightness from their products as well!
Over the years, Eleveight Kites continues to impress kitesurfers with their new innovations and cool designs. And since the people working at Eleveight kites are kitesurfers themselves, you will feel a true hint of authenticity when using their products.
9. Naish Kiteboarding
Naish is also a well-known name in kitesurfing and has been around since 1979. Besides offering a full range of kitesurfing equipment, they also offer products related to foiling, sailing, and surfing.
The main selling point of Naish kiteboarding is that their products are made by combining the top talent among athletes and engineers. When this talent is met with high-quality materials and the latest technologies, the result is state-of-the-art products that exceed expectations.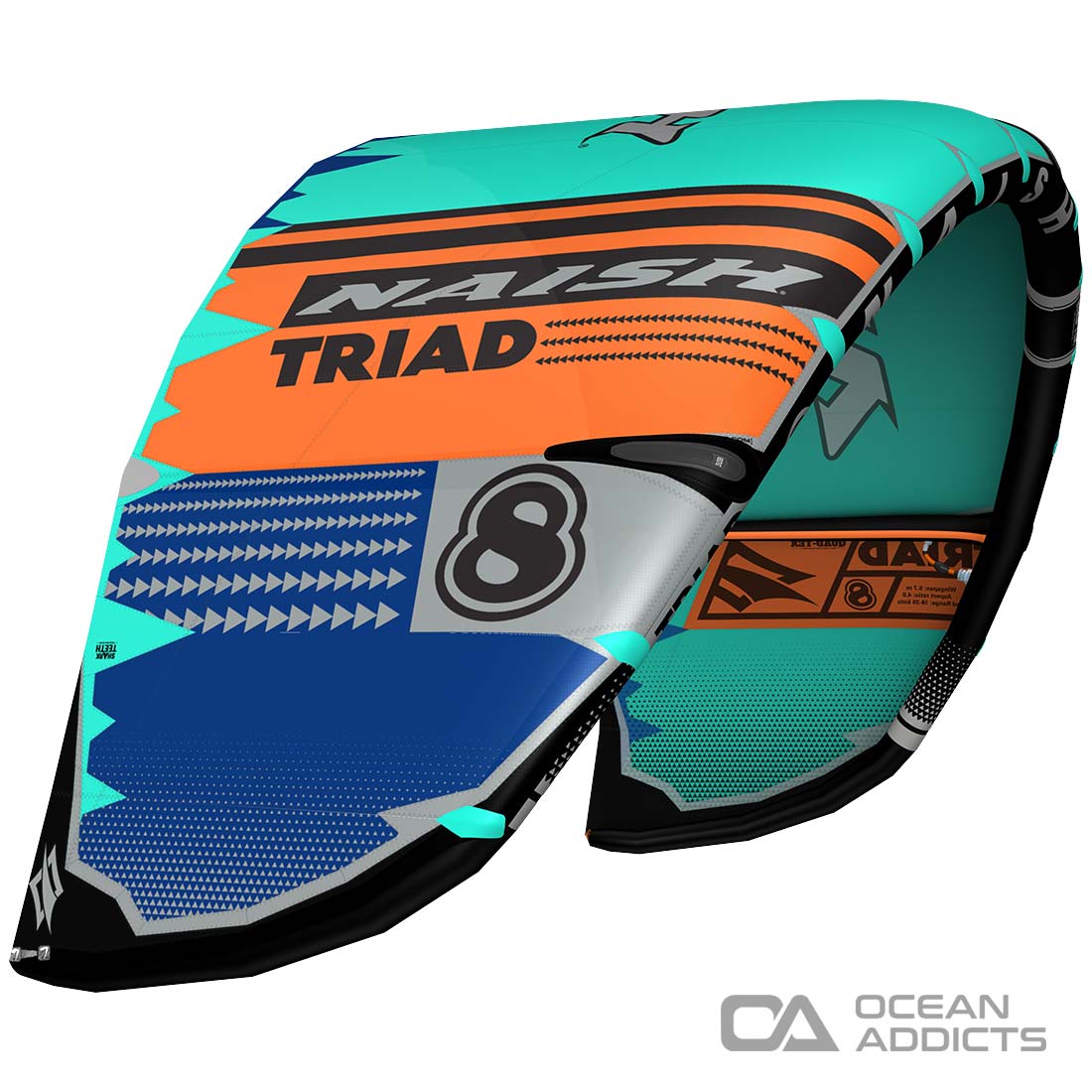 10. Cabrinha
If we have to define Cabrinha in two words, it would be safety and quality. However, this doesn't mean that this is all Cabrinha has to offer. Their gear is also known for its easy-to-use interface, durability, and competitive pricing.
Cabrinha is based in Maui, Hawaii, which also happens to be a popular kitesurfing spot… So to think that a popular kitesurfing brand is operating from a famous kitesurfing spot is another reason to trust this brand since they will have first-hand experience of how all of this works. Although Cabrinha sells kites, boards, foils, bars, and a lot of other stuff, it is mostly famous for its kites.
So if you are after durability and do not want to settle for anything less, go for Cabrinha for your kitesurfing gear!
Eine der entscheidenden Fragen für jemanden, der das Kitesurfen lernen möchte, lautet: Ist Kitesurfen leicht zu erlernen? Wie schwer ist es, Kitesurfen zu lernen? Kann man Kitesurfen alleine lernen? Nun, lassen Sie uns Ihnen sagen, dass Kitesurfen keine Sportart ist,...