"Discover the Thrilling World of Watersports in Sri Lanka"
Introduction: Are you ready for an adrenaline-packed adventure in the tropical paradise of Sri Lanka? From thrilling water activities to serene beach experiences, this island nation offers a wide array of watersports that will leave you exhilarated and wanting more. In this article, we'll explore the best watersports in Sri Lanka, providing you with an ultimate guide to the top 10 activities that will make your visit truly unforgettable.
Sri Lanka, with its pristine coastline and favorable weather conditions, is a haven for watersports enthusiasts. Whether you're a beginner or an experienced thrill-seeker, there's something for everyone to enjoy. From the rush of kitesurfing to the tranquility of kayaking, let's dive into the thrilling world of watersports in Sri Lanka.
 >> Guide with the best adventure sports in Sri Lanka
The Top 10 watersports in Sri Lanka
Kitesurfing – Riding the Waves of Freedom
Kitesurfing takes the top spot as one of the best watersports in Sri Lanka. Picture yourself gliding across the waters of Kalpitiya Lagoon, propelled by the wind, and performing daring jumps and tricks. Whether you're a beginner or an experienced kitesurfer, Sri Lanka's pristine beaches and consistent winds make it an ideal destination to learn and improve your skills.
Margarita Kitesurfing camp in Sri Lanka offers comprehensive programs catered specifically for beginners. We provide professional instruction, equipment rental, and a supportive learning environment. With experienced instructors guiding you every step of the way, you'll quickly progress from basic techniques to mastering advanced maneuvers.
Why choosing a kitesurfing camp?
Learn from certified instructors who will ensure your safety and progress.
Interact and exchange experiences with fellow kitesurfers who are also on their learning journey.
Immerse yourself in a vibrant kitesurfing community from around the world.
Enjoy the thrill of riding while improving your balance, coordination, and core strength.
Explore the stunning west coast islands of Sri Lanka while indulging in this thrilling watersport.
2. Scuba Diving – Dive into the Deep Blue Wonders
Explore the mesmerizing underwater world of Sri Lanka through scuba diving. Discover colorful coral reefs, encounter magnificent marine life, and uncover the hidden treasures beneath the waves. With numerous dive sites catering to divers of all levels, Sri Lanka offers a thrilling and unforgettable scuba diving experience.
Whether you're a beginner seeking an introductory dive or a certified diver looking for new challenges, Sri Lanka's dive centers and resorts provide professional guidance and equipment rental. Dive into the deep blue wonders of Sri Lanka and witness firsthand the vibrant marine ecosystem that calls this island home.
3. Surfing – Ride the Epic Waves
Surf's up in Sri Lanka! The island's coastline boasts some incredible surf spots that cater to both beginners and experienced surfers. Grab a surfboard and ride the thrilling waves, feeling the rush of adrenaline as you carve through the water. Whether you're a novice eager to catch your first wave or a pro seeking challenging breaks, Sri Lanka has a surf spot for you.
Surf schools and experienced instructors in Sri Lanka offer lessons for all skill levels. Learn the fundamentals, perfect your technique, and experience the joy of riding the waves. The warm waters, consistent swells, and stunning beach settings create the perfect backdrop for an unforgettable surfing experience.
Discover the best surfing spots in Sri Lanka >>
4. Stand-Up Paddleboarding – Serene Adventure on the Water
Immerse yourself in the serene adventure of stand-up paddleboarding (SUP) in Sri Lanka. Cruise along calm coastal waters, glide through mangrove forests, or explore tranquil lagoons on your SUP board. This popular watersport offers a unique way to connect with nature while enjoying a full-body workout.
Whether you're a beginner or an experienced paddleboarder, Sri Lanka's scenic locations and calm waters provide the ideal setting for SUP adventures. Rent a board or join a guided tour to explore the hidden gems of Sri Lanka's coastline at your own pace.
Unveiling Sri Lanka's Best-Kept Secrets: Explore Cool and Offbeat Destinations Are you dreaming of a unique travel experience where you can uncover hidden treasures and explore the path less traveled? Look no further than the captivating island of Sri Lanka. While...
5. Jet Skiing – Fuel Your Need for Speed
For those seeking an adrenaline rush on the water, jet skiing is a must-try activity in Sri Lanka. Feel the thrill as you zoom across the waves, experiencing the freedom and excitement that comes with riding a powerful personal watercraft. Sri Lanka's beaches and lagoons offer ample space for jet skiing adventures.
Jet ski rentals and guided tours are available at popular beach destinations in Sri Lanka. Enjoy the speed, maneuverability, and exhilaration of this high-energy watersport while taking in the breathtaking coastal scenery.
6. Windsurfing – Harness the Power of the Wind
Experience the perfect blend of sailing and surfing with windsurfing in Sri Lanka. Harness the power of the wind as you navigate the waves, combining balance, agility, and technique to glide across the water. Sri Lanka's favorable wind conditions and stunning coastal landscapes make it a fantastic destination for windsurfing enthusiasts.
Whether you're a beginner or an advanced windsurfer, there are windsurfing schools and rental centers that cater to all skill levels. Learn the basics, improve your skills, and embark on thrilling windsurfing adventures along the picturesque coast of Sri Lanka.
7. Kayaking – Connect with Nature's Serenity
Embark on a peaceful kayaking journey and immerse yourself in the beauty of Sri Lanka's waterways. Paddle through mangrove forests, glide along calm rivers, and explore hidden lagoons as you connect with nature's serenity. Kayaking is a great way to slow down, appreciate the surroundings, and spot unique wildlife along the way.
Kayak rentals and guided tours are available at various locations in Sri Lanka. Whether you're a solo adventurer or part of a group, kayaking allows you to discover the untouched beauty of Sri Lanka's natural landscapes from a unique perspective.
8. Wakeboarding – Master the Art of Balance
Experience the thrill of wakeboarding in Sri Lanka's pristine waters. Strap on a wakeboard, hold on tight, and let the boat pull you across the surface as you perform jumps, flips, and tricks. Sri Lanka's lakes and reservoirs provide the perfect playground for wakeboarding enthusiasts.
Wakeboarding centers in Sri Lanka offer equipment rental and expert instruction for beginners. Learn the techniques, master your balance, and feel the adrenaline rush as you conquer the waves. It's an exciting watersport that guarantees hours of fun and excitement.
9. Snorkeling – Dive into Underwater Realms
Put on your snorkel gear and dive into the crystal-clear waters, teeming with vibrant marine life. Sri Lanka's coral reefs are home to a diverse array of fish, turtles, and other captivating underwater creatures. Snorkeling allows you to witness this underwater paradise up close and personal.
10. Fishing – Reel in the Adventure
Experience the thrill of fishing in Sri Lanka's bountiful waters. Whether you're an experienced angler or a novice, you can enjoy various fishing experiences, including deep-sea fishing, reef fishing, and traditional fishing methods. Spend a day out on the water, waiting for the big catch while enjoying the tranquility and beauty of Sri Lanka's coastal scenery.
Conclusion
Sri Lanka is a watersports enthusiast's dream come true. From the adrenaline-pumping kitesurfing to the serene adventure of kayaking, this tropical paradise offers a wide range of activities for everyone to enjoy. Whether you're seeking thrilling experiences or peaceful encounters with nature, Sri Lanka's watersports scene has it all. So, pack your bags, grab your gear, and get ready for an unforgettable adventure in the mesmerizing waters of Sri Lanka.
Unterschiede zwischen Kitefoiling und Wingfoiling: Was ist das Richtige für Sie? Bist du ein Wassersportbegeisterter und auf der Suche nach etwas Neuem? Wenn ja, fragst du dich vielleicht, was die Unterschiede zwischen Kitefoiling und Wingfoiling sind. Bei beiden...
Differences Between Kitefoiling and Wingfoiling: Which One Is Right for You? Are you a water sports enthusiast looking to try something new? If so, you may be wondering about the differences between kitefoiling and wingfoiling. Both activities involve riding a...
Differences between Wingsurfing and Windsurfing. Which one is better? If you have heard of the new trendy sport called wingsurfing, it may seem like it is the same as windsurfing, but they are actually different sports. Do you want to know the differences between...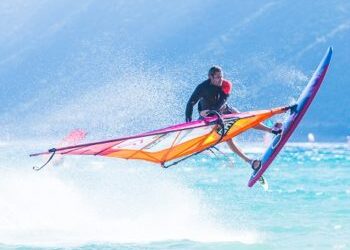 kitesurfing or windsurfing: main differences between these two water sports Are you wondering what is more difficult to learn, kitesurfing or windsurfing? Then you are in the right place! We want to help you to resolve the eternal dichotomy: kitesurfing vs...
One of the first questions to cross someone's mind who is considering whether to take up kitesurfing vs. surfing is, "Which one is better?" While both sports are incredibly rewarding, neither is particularly easy to learn. When hearing the word "surf" in the name of...