Travelling Around Sri Lanka with Family
>> Discover kitesurfing in Sri Lanka with your family with Margarita´team!
Are you thinking of travelling to Sri Lanka with your family? So you probably have a lot of questions to ask. Is it safe to travel to Sri Lanka as a family? Are children going to enjoy Sri Lanka? What happens if someone in the family gets sick? Don't worry, because you are in the right place. In this article, we are going to try to solve all the doubts about travelling to Sri Lanka as a family.
First of all, is it dangerous to travel to Sri Lanka as a family? A big NO. Visiting Sri Lanka with family is completely safe. Sri Lanka is in fact one of the safest countries to travel with the whole family.
Sri Lanka was ranked as the top country for tourism in 2019 by the Australian-based travel guide book "Lonely Planet." And this ranking as the top country was for the right reasons… There is so much to experience and love about Sri Lanka, such as its natural wonders, rich biodiversity, old temples, jungles, beaches, and so on.
But what about travelling to Sri Lanka with family and kids? Many people wonder whether Sri Lanka is family-friendly or it is just a tourist spot for lone travellers. The short answer is Yes, Sri Lanka is a family-friendly spot for tourists – If you want your family to have the best holiday of their lives with tons of adventure, then you can't go wrong with Sri Lanka!
We have created a guide to help you prepare for what it feels like to travel around Sri Lanka with family… So let's get started:
Best Time to Visit Sri Lanka with Family
One of the first questions that come to mind when planning a family holiday is the best time to visit a destination. But when it comes to visiting Sri Lanka, you can visit all year round, thanks to its two separate monsoon seasons!
When it is monsoon season in the south and west Sri Lanka, it is usually dry season in the north and eastern part of the Island. Similarly, the dry season in the south and west part of Sri Lanka means it will be monsoon season in the northern parts.
So if you want to visit up north to Trincomalee or Jaffna, the best time to visit Sri Lanka is between May – October. And if you want to visit the south side beaches and the Galle, you can visit between December and April.
Flights to Sri Lanka with Family
If you have already decided to visit Sri Lanka with your family, it is time to look at flights.
There are many airlines that have good prices for children. We recommend that you compare the prices of the different airlines that operate in Sri Lanka. But how long will it take your family to get to Sri Lanka?
From Europe to Sri Lanka, the direct flight can take around 11 hours, but many airlines also allow stopovers. For example, Emirates Airlines offers a brief stopover in Dubai so you can also experience a new country along the way.
Similarly, travelling from New York (USA) to Sri Lanka takes around 18 hours of flight. And if we talk about Italy (a European country), the flight time is around 9 hours.
Considering how famous Sri Lanka is among tourists, there is a good chance that you will find a flight in your country as well!
Sri Lankan Food for Family
 The next item to consider is the food in Sri Lanka… Once again, you can get one of the best cuisines in Sri Lanka, which will be loved by all family members. If you like spicy food, then you will have tons of options to explore. And even if you do not like spicy food, there are tons of options with no spice as well!
Kids tend to be picky with food & that can become a problem when you are traveling with family. Some of the kid-friendly foods in Sri Lanka are:
* Hoppers
* Paratha
* Coconut Roti
* Fresh Fruits
* Fried Rice
* Dahl
These are just the special food items that you can find in Sri Lanka & will be loved by the kids. Other than that, you can easily find traditional food items such as eggs, bread, and other stuff in Sri Lanka as well!
Beaches of Sri Lanka
Being an island, you will see tons of beaches in Sri Lanka, and you can't go wrong by choosing any beach. Although the majority of the Sri Lankan beaches are great for tourists, not all of them will be family-friendly due to the large surf and strong currents.
Once again, you will not have much problem finding kids-friendly beaches in Sri Lanka at all. From learning to swimming to chilling on the golden sand to tons of other water sports, there are a lot of things to explore for a family. And the best part is that you can find family-friendly beaches on both the northern and southern sides of Sri Lanka.
For example, the Nilaveni beach and the Arugam Bay are famous & family-friendly beaches in northern Sri Lanka.
How to Travel Around in Sri Lanka with Family
Now, let's talk about the transportation situation in Sri Lanka and how you can travel around with family… In Sri Lanka, there are tons of transportation options to travel around with kids.
Before we look at the different transportation options, make sure that you do not miss out on the train from Nuwara Eliya to the Ella – This is among the top scenic rail journeys in Sri Lanka and even in the world.
Car + Driver
The most comfortable way to travel around Sri Lanka with your family is by hiring a private driver
If you want to avoid public transportation, you can always opt for renting out a car with a driver. Although this option will not be suitable for those who are traveling on a budget, it will make transportation very easy for the family.
Try to get a good quality car with a functional air-conditioner & all the standard safety features.
Trains
Travelling around Sri Lanka with your family by train is one of the cheapest and most fantastic options! And the best part about travelling via train is that you also get to enjoy the greenery of Sri Lanka.
Sri Lanka is famous for its tea plantations, and if you want to take a journey through the wonderland, then you can't miss the train ride from Ella to Nuwara Eliya – You will be able to see lush green tea plantations, which is an experience that can't be described in words.
Bus
Do you want to experience the local culture up close? Then you can't go wrong by travelling on the buses! These are cheap, affordable, and offer a rich experience that can't be witnessed in any other transport option.
What if someone in the family gets sick?
Last but not least, to know if Sri Lanka has good doctors and hospitals to treat any possible illness of any member of the family. The answer is yes. In big cities like Colombo, Negombo and Kandy, they have adequate means to treat any health problems of their loved ones. 
"Discover the Thrilling World of Watersports in Sri Lanka" Introduction: Are you ready for an adrenaline-packed adventure in the tropical paradise of Sri Lanka? From thrilling water activities to serene beach experiences, this island nation offers a wide array of...
Accommodation in Sri Lanka for Family
Once again, you can find tons of family-friendly accommodations in Sri Lanka, and the best part is that you can find something that suits your budget. From exotic villas to simple accommodations on the beachfront, you can find it all in Sri Lanka!
And if you are a large family or traveling in a group, then you can also consider private villas, which can become affordable for a large group.
Sri Lanka is a wonderful destination. A country of beaches and mountains, rice fields and plantations, it is also a land rich in history, where colonizers from Portugal, the Netherlands and England have left important traces within the kingdoms that succeeded each other. In this way, the temples and palaces of the ancient cities of the Cultural Triangle are attracted by their beauty and their excellent state of conservation.
A trip to Sri Lanka as a family will allow us to get to know the culture of the country with activities specially designed for children to have their little adventure.
And there is no better way to end the trip than by making an extension to the Maldives, where we can relax on its paradisiacal beaches.
Conclusion
With family trips, you will explore the world together sharing new experiences and emotions that will remain with you forever.
On your holidays with family around this wonderful country, you will all feel like real adventurers as you get to know other realities, other ways of life, natural environments, ethnic groups and a variety of cultures. Travelling as a family in Sri Lanka creates unique experiences and is a unique opportunity to open up to our children the possibility of discovering, connecting with values ​​and experiencing the diverse realities of the world. What are you waiting for? Call all your relatives and head to this wonderful country!
You can't´a buy happiness , but you can always buy a kite... For the majority of people, the New Year's resolution is pretty much the same such as getting healthier, travelling more, and so on. Basically, all the goals from New Year's resolution boil down to something...
 The best thing about a kitesurfing holiday is that you only have to worry about the wind! Thinking about a kitesurfing holiday but not sure where to go? Maybe you are new to kitesurfing and are not sure whether it is a good idea to try this sport or not... Whatever...
With the winter season in full swing, it is only natural to crave warm beaches and a lot of sunshine. And if one can manage to get some adrenaline action on top of all that, it becomes more amazing. So if you want a lot of sunshine, warm beaches, and also want to try...
Amazing holiday vibes and fantastic weather, that's what kitesurfing in summer is all about! Summer brings a lot of sunshine with it, and if you are living in a big city, it can even heat up the asphalt on roads... As a result, it almost feels like the heat is burning...
A lot of people believe that they can only go kitesurfing during the winter and the summer season. In reality, you can also go kitesurfing during the spring season, which consists of the months of March, April, and May. After the long winter season, the month which...
Kitesurfing can be an ideal sport if you are a true spirit who loves to travel around the world & get a thrill from extreme sports. However, one of the things that matter the most in kitesurfing is the location, and if you fail to choose a good one, your...
The best kitesurfing schools in the world Are you thinking of learning to kitesurf and want to get started in this sport with a first-class school? Then you are in the right place because in this article we advise you on which are some of the best kitesurf schools on...
The Best Kitesurfing Camps in the World Are you wondering what are the best and most unique kite camps on earth? Then you are in the right place! If you want to experience what it feels like to be a bird, then you have got to try kitesurfing which allows you to...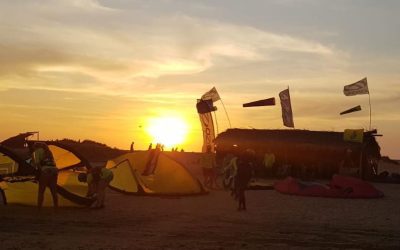 When it comes to traveling with your family, it is a lot more difficult than traveling solo. And when you add kids into the mix, the equation becomes a lot more complicated! However, that's not to say that you can't find good destinations for family trips - Over the...
Is your family looking for a new summer activity to try? Kitesurfing could be a perfect choice! This extreme sport is exhilarating and fun for people of all ages. Is your child itching to try kitesurfing? The good news is, that kitesurfing is a great activity for kids...
If you're looking to do something different this year, why not try kitesurfing? This exciting sport allows you to get up close and personal with the beautiful scenery. For solo travellers, this type of outdoor activity can be an ideal way to spend your vacation...
The best kitesurfing destinations for digital nomads Back in the day, a nomad was someone who didn't have a fixed residence and used to move from one place to another. The rise of technology has given birth to a new type of nomads known as 'digital...